Botanical Foundation
PRODUCT #AAHBFM
This Foundation was developed by renowned makeup artist Vincent J-R Kehoe. As President and Director of the Research Council of Make-up Artists, he designed and produced a foundation that has been the choice of professionals and celebrities for almost a decade. This Mineral Oil Free, Lanolin Oil Free, Fragrance Free creme foundation is perfect for dry to oily to sensitive skin.
This formula comes from RCMA (The Research Council of Makeup Artists) and is one of the top-selling professional foundations worldwide. It is used by makeup artists for thousands of celebrities including Beyonce, Jennifer Lopez, Kim Kardashian, and Blake Lively. Beauty Blogger Kandee Johnson said, "RCMA are the essential foundation palettes for any makeup artist. You can match any and every skin tone from the lightest fair to the deepest darkest tone. I use these for my own personal foundation too. You can cover, highlight, contour your face from tan in the summer to lighter in the winter and every shade in between." Video Blogger Wayne Goss has a review entitled, "Probably The Best Foundation in the World" where he spotlights RCMA. It contains only vegetable oils, pure waxes, and FDA approved colors. It does not contain any animal product ingredients, perfume, lanolin, petroleum, or mineral oil—the first two can cause allergic reactions on some skins, and the last two are not absorbed by the skin, causing excess oiliness on the surface. In other words, this foundation is healthy for the skin, will never clog pores, and has cured facial acne for many of our customers! Most commercial liquid foundations have a ratio of about 18 to 23 percent of pigment to the liquid. Our foundation has at least 50% pigments to waxes and oils so that a very little bit goes a long way. Our Botanical Foundation lasts better throughout a long day than comparable commercial foundations and requires less touch-ups.
IPM, Castor Oil. Carnauba, Candililla, Ozokerite, Titanium Dioxide, Iron Oxides, Propyl Paraben, BHT. Also May Contain: D&C Red #6, D&C Red #7, D&C Red #27, Cos. Green, Cos. Blue.
Since these foundations contain more pigmentation, you only need to use a little to have a great impact. To get the right coverage, use the following techniques: For a sheer, light coverage, use a damp, non-latex sponge or a damp foundation brush. For a normal to opaque coverage, use a dry non-latex sponge or foundation brush. For all-day opaque coverage, set with our Perfect Pressed Powder. For a hydrated look, apply a very small amount of Must Dew to the skin just before applying this foundation. For a glossy look, place a drop of the Liquid Sunshine on the foundation and mix together with a sponge or brush. When applying to dry skin, add a drop of Skin Therapist to the foundation and mix together with a brush, our Famous Non-Latex Sponge, or our amazing Blenderful!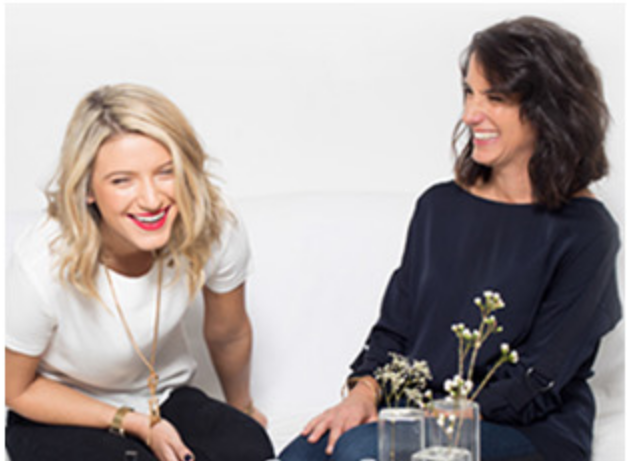 Incredible makeup and skin care for everyone…
At LimeLife, we empower people to achieve their goals and dreams and to inspire others to do the same. Our family-owned company was founded in 1952 to provide professional makeup to the stage and film industry. Now we are expanding our reach to help women and men everywhere look their best every day with our all natural skincare line and personalized makeup palettes.
Be Amazing Every Day with LimeLife!
Michele Gay & Madison Mallardi
Co-Founders | Aunt & Niece